America Needs Journalists.
And We Need You.
About this Project
Media Now works year round to inspire, educate and train high school journalists moving from the classroom into the newsrooms of our communities. We work with high school and collegiate level advisers and a network of professional journalists to do this important work. With the "America Needs Journalists" message, we are looking to further empower and inform the journalists of tomorrow about the vital role they play in our society. And that's where you come in.
How You Can Help
We are asking our extended network of professional working journalists and their connections to encourage and inspire our student journalists. Share why America Needs Journalists by noting the importance of the work that they do through a short video message. These inspiring journalists need to hear from you! 
The Ask
Take a short (horizontal) video message from your phone for us to share with our student network on social media, our website and ultimately in a compilation video to kick-off our two camps this summer.  
Here are a few prompts, if you need them:
If you had to give one piece of professional advice to young journalists, what would it be?

Why does America Need Journalists? ("America needs journalists because…")

What keeps you inspired and focused on the work you do? 
A 15-30 second piece is all we're looking for! We've included a sample video from Kate here as well so you get the idea. We will put the video intro, lower-third and music to your piece, you can just send your message unedited to us for inclusion in the project. 
How to Submit
  Please state your name, role at your newsroom and name of your publication or media outlet at the start of your video.
  Pause and then share your wisdom!
  End with a smile  – if nothing else, we'll want a nice freeze frame to share. 🙂
  Fill out the form below so we can get the right spelling of your name and media outlet.
  Load your file in one of three ways:
Send us your videos by Thursday each week to see your video featured on our socials and website.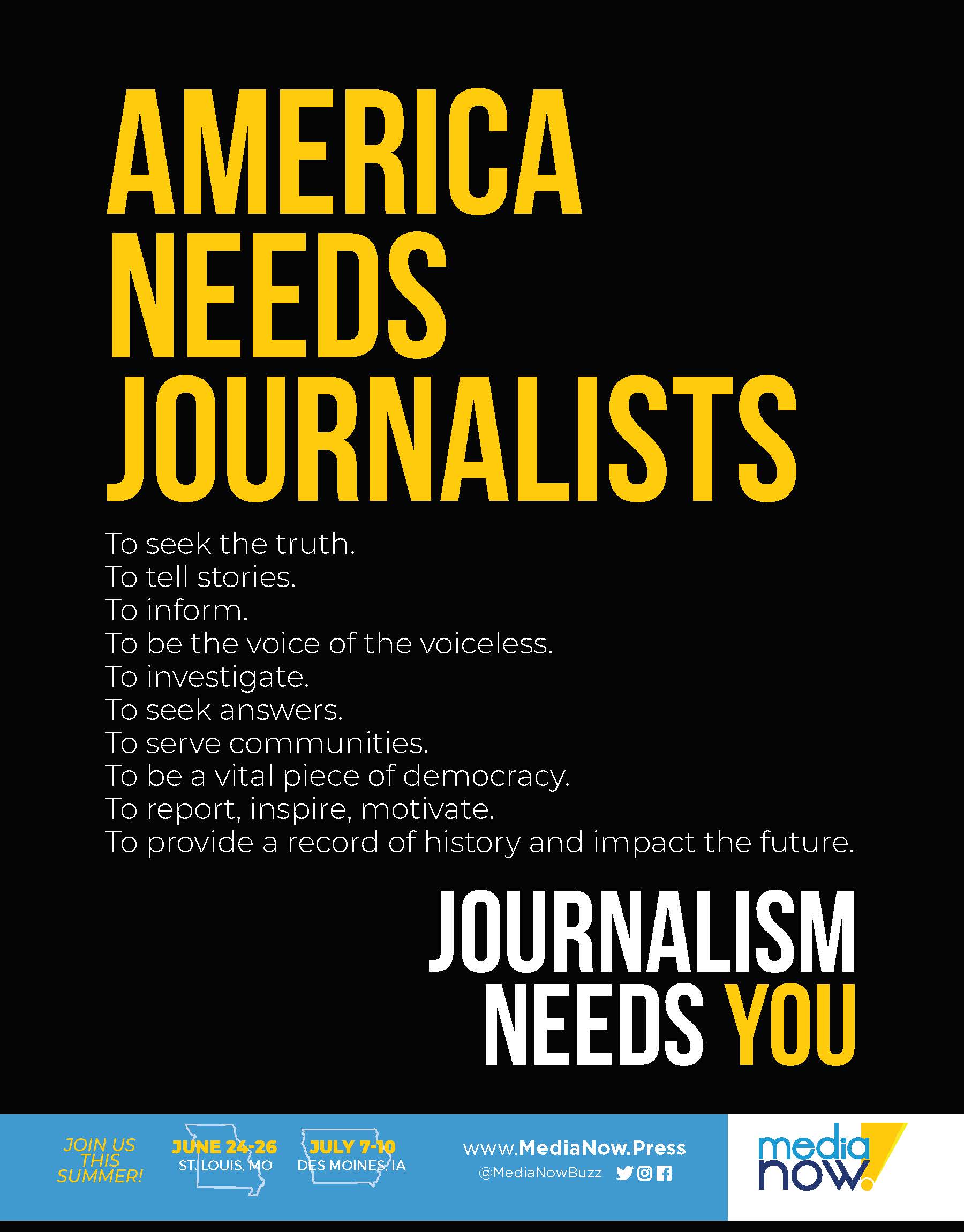 Thank you!
We're so excited to see what 30 seconds of your time will do for this students. We appreciate your work day in and day out in our communities. We are doing all we can to bring a new group of interns and colleagues with the right skills and attitudes needed to work in this important field. We appreciate you!
Questions?
Reach out to the program lead, Rebecca Clayton at rebecca@medianow.press.