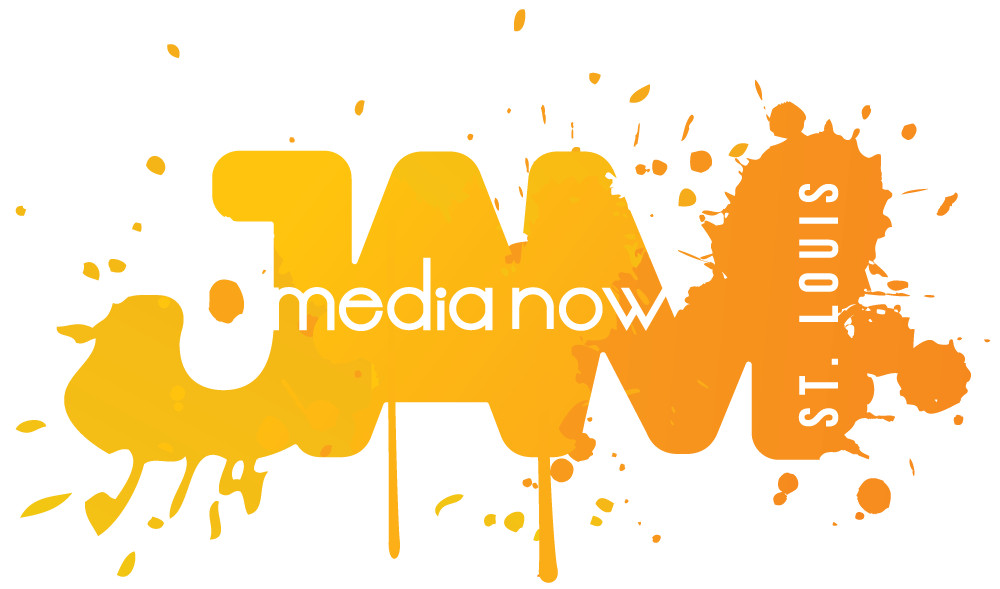 Thanks for joining us for
MEDIA NOW JAM
---
WHO: High School Journalism Students and Advisers
WHAT: Two-Day Bootcamp to Improve Your Journalism Skills
WHERE: Webster University, St. Louis, MO
WHEN: June 22 – 23, 2022
---
We were back on campus this year with a two-day jam to boost journalism skills.
We offered eight courses in our day-style camp from 9 a.m. – 4 p.m., including design, writing, photography, leadership, web, yearbook, photography and video. Thanks to all campers, instructors, staff and parents for making camp such a success!
Media Now Jam

Class Listing
Design
Instructor: Carlos Ayulo
Whether you're new to designing pages or want to take your skills to the next level, this course is for you. All levels of designers from any print publication type will benefit from learning the concepts and design principles while gaining practice with the premiere desktop publishing program Adobe offers. This course will include both the basics of InDesign as well as more advanced tools to make your job on staff a bit easier. Good design isn't really about the software, though — as you learn and practice, you'll be exposed to important concepts to build your skills and take your ideas to the next level across every aspect of your media program.
Here are some additional design topics we'll cover in this track:
Principles of design
Elements of design, including how to create a style guide with color palettes and typography
Grids, alignment and structure
Content-driven design
Trends in graphic design
Adobe Photoshop and Illustrator tips
Participants will have the opportunity to learn and engage in a variety of ways, including
Critique sessions of published designs
One-on-one sessions with the instructor on work in progress
Web - SNO Site
Instructor: Andrea Bell
This web publishing class for SNO customers will be an opportunity to work directly with members of the SNO team to explore the design options that exist within the SNO FLEX theme and to learn about all the possibilities in SNO's four-story page templates. We'll discuss strategies and tools for managing your online workflow, and we'll take an in-depth look at online publishing standards and discuss how your coverage and content can be shaped by the exciting world of online publishing. This class is for SNO customers. If you are not a current SNO customer, this is a great time to sign on and join them at camp to get the training you need for a great site from day one. You can find more information out about SNO and the services they provide here.
Editorial Leadership
Instructor: Mitch Eden
The Editorial Leadership classes will reinvent the way you see your digital newsroom and yourself as a leader in it. Students will learn how to run that growing and changing digital newsroom. Plug into this editor/leader development track and gain skills to manage today's digital newsroom with exposure to new tools that will help infuse the news and information into coverage and workflow. Leave with a knowledge and structure for your own newsroom or section along with at least two practical and applicable digital media elements to implement for the upcoming school year.
Beginning Photography
Instructor: Gary Hairlson
Looking for some hands-on training to get more out of your DSLR camera or smartphone? This class is perfect for any student wanting to learn more about how to shoot with their DSLR in manual mode. You'll learn the DSLR basics on aperture, ISO and shutter speed which are the three things you need to achieve well exposed images.
In addition, you'll learn about composition, using rule of thirds, lighting, different angles and interesting moments that will help you produce a great storytelling image during class photo scavenger hunts around Webster's campus.
After shooting assignments, the class will edit, crop and learn the basics of writing a good caption for the images.
By the way, if you don't have access to a fancy DSLR camera, don't let it stop you from participating. You can still improve your photo skills by learning about composition, angles and looking for storytelling images using your smartphone.
Advanced Photography
Instructor: Gary Hairlson
You've learned the fundamentals of photography and picked up valuable technical skills along the way. Now is the perfect time to begin developing your style and photographic vision. In this advanced photography class, we're going to survey the work of several stellar photographers and then photograph and edit a challenging assignment that helps you build a body of photographic work that speaks to you as a student photographer.
Yearbook
Instructor: Sarah Kirksey
Geared toward all types and sizes of yearbook programs, this track will help students take important steps towards creating a successful 2023 yearbook. We will focus on developing our verbal and visual theme, discuss current design trends, and learn how to improve our yearbook copy skills. In a hands-on, interactive environment, this track will help you plan a yearbook students are excited to buy and the staff is excited to produce. For this class, it's most beneficial to sign up in groups of 2 or more from your school, but individuals are more than welcome, too!
Video
Instructor: Matt Rasgorshek
You will learn basic techniques of video storytelling, then go into the field to gather a story of your own. Whether you shoot with your school's camera equipment or your own mobile device, you will shoot, write, edit, export, post and share your work. The pace will be fast, with plenty of challenges along the way, but you will be a better storyteller when the work is done. Bringing a laptop or mobile device with your preferred editing software is highly encouraged.
Reporting & Writing
Instructor: Jim Streisel
This two-day journalistic writing workshop is JAM-packed with information to get you ready to tackle all sorts of stories. We'll start with the elements of news and apply them to different writing styles like Q&As, inverted pyramids, angle-based narratives and more. Along the way, you'll hone your interviewing, research and observation skills to help get the information you'll need to be a successful reporter.
Advising Publications
Instructor: Nancy Smith
The class will be led by Nancy Smith of Lafayette High School in St. Louis, MO, and give advisers an overview of advising publications in 2022. We will discuss everything from editorial policies and staff organization to introductory journalism courses and training editors. Our goal for this class is to send advisers away with a grasp on effectively managing their journalism classroom. This course is meant to be more of a survey course to give advisers a taste of each of the areas they'll likely be working with in their converged newsroom. If instructors would like a little more focused direction in one specific area (such as videography), they are encouraged to enroll in one of the other Media Now courses.