Want the Details?
You Got'Em.
Media Now at Drake University in Des Moines is where students and advisers choose a single-track to immerse themselves in the three-night, four-day workshop. Participate in hands-on projects and showcase them in a campus-wide awards ceremony to cap off our time together. It's an awesome opportunity to deep dive into that area of interest and hone your skills. No matter what level you arrive with, we'll push you, encourage and train you to move to the next.
High School
Journalism Students (entering 9th - graduating 12th) and Advisers; staffs and individuals
Four-Day Overnight Camp
to Improve Your Journalism Skills in a Hands-on, Active Learning Environment; Field Trips and Fieldwork are topped with a ton of fun, prizes and t-shirts!
Early Bird
$450
Regular 
$550
Registration will open in early 2024
Registration Pricing
Registration Includes Food + Housing
Here's a sample of what the days will look like. There are field trips worked in throughout where students will be taken by bus to local news organizations such as the Des Moines Register and Merrideth Publishing, as well as the Iowa Cubs minor league stadium at Principal Park and the Historic East Village where students can do hands-on storytelling.
DAY 1 ·
Monday, July 10
2:30pm – 3:45pm All Camper Check-in (Stalnaker Hall)
3:00pm - Bus from STL Arrives
3:45pm - Walk from Dorms to Opening
4:01pm Opening, Keynote
5:00pm Class Meet-Ups
5:30pm Dinner
6:30pm Classroom sessions
8:00pm Large Group Activity
9:30pm Free Time at Dorms
11:00pm Dorm Room Check
DAY 2 ·
Tuesday, July 11
7:30am Breakfast for On-Campus
8:30am Opening
9:15 am Classroom sessions
12:00pm Lunch
1:00pm Classroom sessions
5:00pm Brain Break (Optional)
5:30pm Dinner
6:30pm Classroom Session
8:00pm Large Group Activity
8:30pm Photo Walk
9:30pm Free Time in Dorms
11:00pm Dorm Room Check
DAY 3 ·
Wednesday, July 12
7:30 – 8:20am Breakfast for On-Campus
8:30 – 9:15am Opening
9:15 – 11:45am Classroom sessions
12:00 – 1:00pm Lunch
1:00 – 4:30pm Classroom sessions
5:00 – 5:30pm Brain Break (Optional)
5:30 – 6:25pm Dinner
6:30 – 7:50pm Classroom Session
8:00 – 9:30pm Large Group Activity
9:30pm Free Time in Dorms
11:00pm Dorm Room Check
DAY 4 ·
Thursday, July 13
7:30 – 8:20am Breakfast for On-Campus
8:30 – 10:00am Classrooms for final presentations
10:00 – 10:15am Camp Feedback Forms
10:30am Awards Ceremony
Noon Camp Ends (No Lunch)
12:45pm Check out Complete from Dorms
1:00pm Bus to STL Departs
There will be two people sharing one room with shared shower rooms on each floor. Each room has two beds (one bed for each person), desks and closet space. The lounges have wifi and comfy furniture. Your room will have wifi as well. Your breakfast (along with lunch and dinner) will be at a campus dining hall. Your camp name tag gets you in. The only meal NOT included is lunch after the awards ceremony on the final day.
Some campers like to order food at night during their free time in the dorms between 9:30 - 11:00 p.m. Campers can bring their own or order for delivery, but no campers are allowed to leave campus at any time.
Check-in
Dorm check-in is from 2:30 – 3:45 p.m. at Stalnaker Hall. Opening Session begins at 4:01 p.m. Students will walk as a group from the dorms to the opening at 3:45 p.m.
Check-out
Dorm check out begins at noon on the last day of camp. The final check out of dorms is at 12:45 p.m. Camp sessions conclude before noon that day. Lunch is not provided.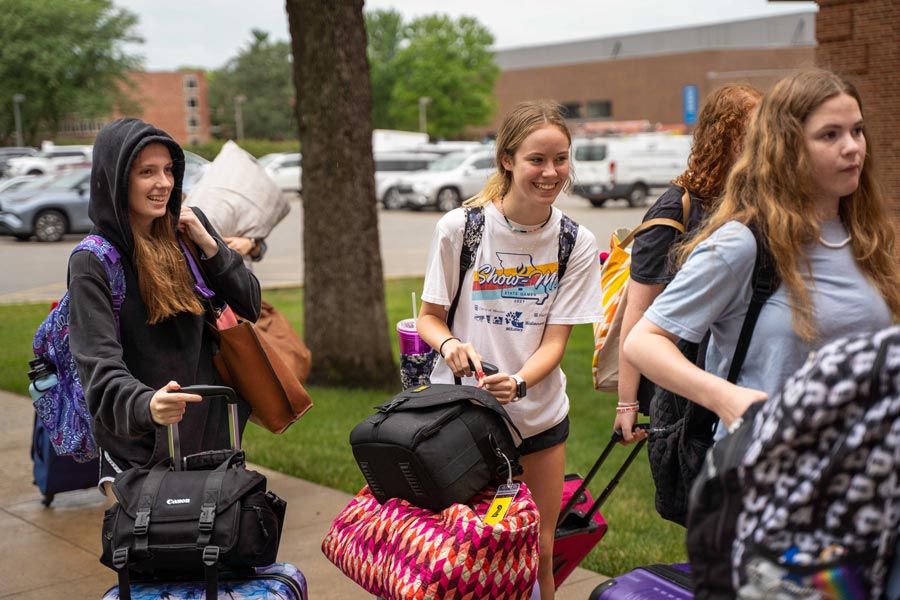 Nightly Large Group Activity Time
We have additional activities planned each evening. More details to come on that! All campers will walk with their class to the night activity and then be released to the dorms thereafter. They will receive detail at check-in each night as to where and what they need for activity time. Campers are not allowed to walk around campus at night (or day for that matter). All campers will be at the closing large group and then walk to the dorms where they can hang out in the common areas within the dorm. All campers are checked back into their own rooms by 11 p.m. We have 24-hour residence hall desk service to assist our campers as well.
Packing list for the Dorms
Bedding (twin sheet, blanket and pillow)
Personal toiletries
Linens (Towels, etc)
Casual clothes including comfortable walking shoes
Laptops (if available)
Cameras (if available)
Cell Phones
Charging Cables
Medicines/Prescriptions
Headphones
Bus Transportation
Need a ride? Round Trip Bus Ride from STL to DSM
We offer round-trip charter bus transportation from St. Louis, Missouri, to Drake University in Des Moines, Iowa. We will have one pick-up location in St. Louis. If you can get yourself to our pick-up location at Mid Rivers Mall parking lot, we'll get you to Drake University – and back!
A round-trip ticket is $50. This bus sign-up is part of your camp registration.
If you have any questions about the bus, feel free to email us at [email protected] or call/text 314-252-8816.
Need a bus from Omaha or Chicago? Check the MegaBus to book your ride independently HERE.
Departure from Mid Rivers Mall (Macy's Entrance)
in St. Peters, MO
8:15 a.m. - 8:45 a.m. Load In
9:00 a.m. Departure, Monday, July 10
(Lunch stop around Noon)

Arrival on Drake Campus
3:00 p.m.
Departure from Drake Campus:
1:00 p.m. Thursday, July 13 (dinner stop on the way)

Arrival at Mid Rivers Mall in St. Peters, MO:
around 7:00 p.m. (students to update parents with ETA along the way)
Airport Transportation
Flying in? We can help.
If you're planning to fly into the Des Moines Airport, you can either arrange a ride share (Lyft or Uber) or let our team know. We can arrange a single pick-up time at 2:30 p.m. on Monday, July 10. Our team arrives in Media Now shirt and/or sign to then take you to campus. A similar drop-off will happen at the end of camp with a 12:30 p.m. departure from campus.
If you have any questions about airport transportation, feel free to email us at [email protected] or call/text 314-252-8816.
Use a ride share app.
This option allows you to arrange pick-up, drop-off times on your own, along with the expense.

Arrange a ride with Media Now*
2:30 p.m. pick up at the DSM Airport, July 10

1:00 p.m. drop-off at the DSM Airport, July 13

*This must be communicated with the Media Now staff in order to reserve your spot.
Students have the opportunity to apply for a full-ride scholarship to attend Media Now camp this summer by writing a 250 – 300 word essay explaining how the skills they hope to acquire from attending Media Now will further their current high school publication staff experience, why the scholarship is needed and how they may use these skills in the future, journalism or non. The essay should also include how your financial needs may keep you from participating. Up to six scholarships will be awarded as selected by the University advisory panel. Our current scholarships have all been awarded for this season. Please reach out to [email protected] if you have any questions.
frequently asked questions


What You Want to Know
Save the Date for Next Summer!
If you're looking for the perfect amount of fun mixed in with upskilling your journalism experience, this is it. Field trips and hands-on practice with award-winning professional journalists and advisers are all in one space focused on moving you to the next level.
Join us July 8-11, 2024 at Drake University.