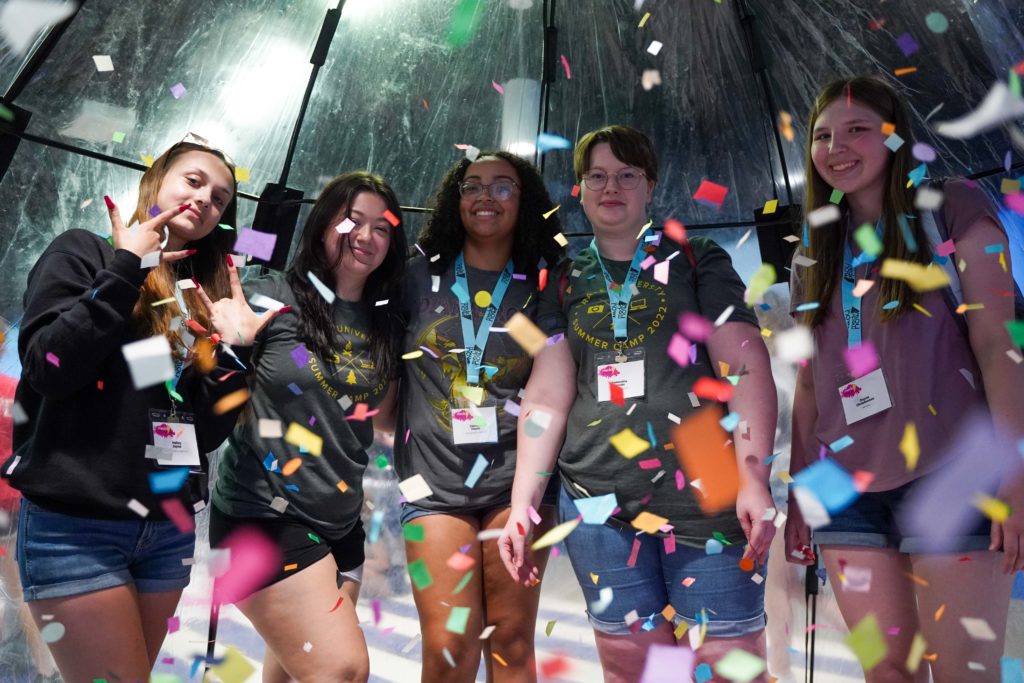 Hi Media Now Campers & Parents! 
Media Now at Drake University is finally here! We are excited to welcome you all to camp from July 6-9, Wednesday – Saturday. Here are a few things to note before you arrive in Des Moines on July 6.
Locations & Dates:
Drake University
2507 University Ave
Des Moines, IA 50311
July 6-9, 2022
Check-In: 
Eat Lunch BEFORE you check in. (Lunch is not included for our camp on Wednesday)
Check-In runs from Noon – 1:30 p.m. at Morehouse Residence Hall on University Avenue.
Map it ›
Once checked in, campers can meet in the main lobby by 1:45 p.m. and the Media Now Camp staff will walk campers over to the opening.
Opening Session is at 2:01 p.m.
Parking for the Duration of Camp
Park for free in the Olmsted Center Visitor Parking Lot. You will receive a hang-tag for your vehicle. Student car keys will need to be turned in to camp staff to be tucked in a lock-box until check-out. This is for the safety of all campers. They have no need to use their vehicle once on campus.
Camp End Time
Camp ends around 11:45 a.m. or 12:00 p.m. when the awards ceremony concludes on Saturday. Students may return to their dorms to get their bags and personal items, check out by turning in their keys and then head out.
What do you need to bring?
If you're wondering what to pack for class and the dorms, you can check the details here.
What to Bring For Your Classes ›
What do Bring For Your Dorms › 
Roommates
If you specified a roommate, we'll do our best to honor that (2 per room). If you didn't specify someone, don't worry. We organize by request, then by school, and finally by course selection.
Room Key 
The residence hall will have a key for your room and we'll provide you with a name tag and suggest you keep it tucked in a safe place. Most campers put it on their lanyards since they must wear lanyards throughout camp.
Parent Invites
We don't want you to miss out on all the fun! You're invited to attend our closing awards ceremony on Saturday, July 9. The all-camp awards ceremony begins at 10:30 a.m. Park in Olmstead – Follow signage. You can park in the Olmstead parking lot (also near Morehouse dorms) and not need a parking pass. After the ceremony, go grab your camper's bags form the dorms and check out. If you'd like a campus tour, those are available at the end of camp as well. Please reserve time in advance by texting or calling 314-252-8816.
Bus Information
If you selected the charter bus option when registering for camp, we have you covered! Check out all of the details here. Need to add on the bus ride? You can still do that here.
Pickup/Drop-off Spot: Mid Rivers Mall in St. Peters, MO (near Macy's)
Pickup Time (Leaving STL): Wednesday, July 6 at 6:00 a.m. Students will have on stop for lunch before arriving on the Drake University campus around 1:00 p.m.
Departure Time (Leaving DSM): Saturday, July 9 by 1:00 p.m. Students should grab their bags from the dorms directly after the awards ceremony and head to the bus as soon as they are ready.
We should be back to Mid Rivers Mall around 7:00 p.m. on Saturday. The bus will make one stop for dinner on the way back. We will have students text their rides about 30 minutes out.
Name Tags
Name tags must be worn by staff and campers at all times when outside of their dorm. Again, this is a great place to secure your dorm key.
COVID-19 Policy
We will be following the Drake University campus guidelines in response to COVID-19. To see the most updated protocol information visit our COVID-19 Guidelines. 
As always, if you have any questions, make sure to contact the Media Now team. You can give us a buzz at 314-252-8816 (call or text) or email us!