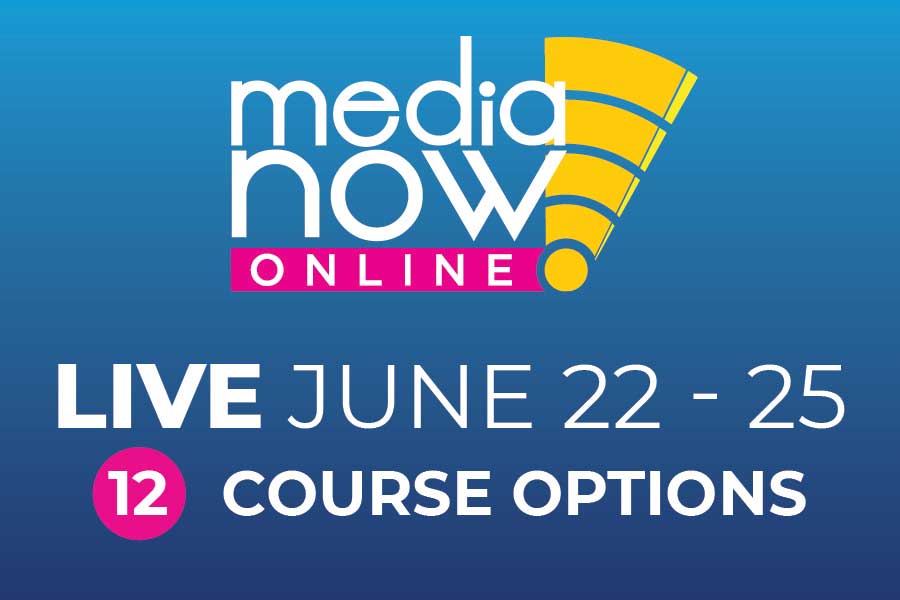 Join us from the comfort and safety of home!
With our ever-changing environment, we at Media Now have adapted too to keep you and your journalism programs moving forward in a time of uncertainty. In our tenth year, instead of slowing down, we've provided you with an accessible and affordable option to help you prepare and accelerate into the school year ahead.
Attend Media Now whether you're located on the east coast, west coast or anywhere in between! Media Now Online is a new virtual experience made for high school journalists looking to hone in on their skills, despite the odds. Join us from the comfort of home this summer for this completely remote, online learning opportunity.
But that doesn't mean you'll be alone or that you'll miss out on a camp T-shirt. We'll be doing daily live large group sessions June 22 – 25 and individual classes will meet up to share ideas, gain feedback on their work and connect with other students. If you need to work at your own pace, you'll have access to all materials through Sept. 1.
Wondering what class to take? From Editorial Leadership all the way to Video Storytelling, we've got you covered. Choose from our 12-course offerings, each course is $99. You can take as many as you'd like!
Already Registered for the In-Person Camp?
If you've already registered for Media Now in-person, we're offering you access for up to three courses by transferring your registration fee to Media Now Online. You can take one course live with us June 22 – 25 and the other two course at your own pace. You'll have access to all materials through September 1.
To transfer your registration, fill out this quick survey to tell us your preferences and we'll take care of the rest.