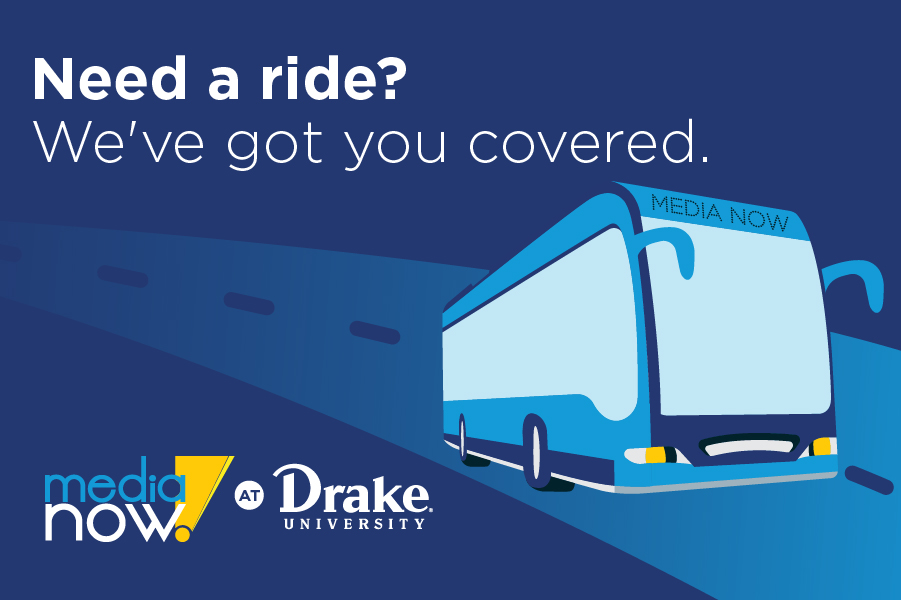 Your trip to Media Now Drake just got a lot easier. We're offering round-trip charter bus transportation from St. Louis, Missouri to Drake University in Des Moines, Iowa. We have one pick-up spot in St. Louis. All you have to do is get yourself to the pick-up location (once you've reserved your spot on the bus), and we'll get you to Drake and back! Pretty cool, huh?
There are a limited number of seats available on the bus, so be sure to sign up soon. A round-trip ticket costs $30.
This bus sign-up is separate from your camp registration, so make sure you complete both forms to get your spot for camp secured and reserve your seat on the bus. Advisers also have the opportunity to prepay for a group of students to ride the bus.
All the Details
The bus will depart from St. Louis (exact location TBD) at 6:00 a.m., Monday, July 6. You'll arrive on the Drake Campus around 1:00 p.m. Be sure to bring some cash for a quick lunch stop along the way.
Once camp concludes, the bus will depart from Drake at 1:00 p.m. on Thursday, July 9 and arrive back in St. Louis around 7:00 p.m.
If you have any questions about the bus, send an email to [email protected] or call/text 314-252-8816.