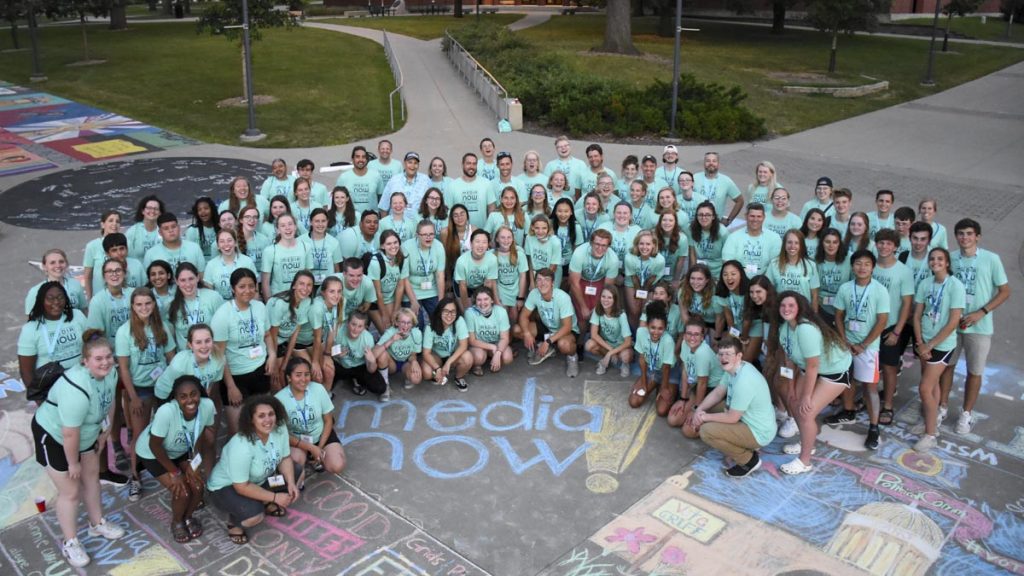 [et_pb_section bb_built="1″ _builder_version="3.0.47″][et_pb_row _builder_version="3.0.48″ background_size="initial" background_position="top_left" background_repeat="repeat"][et_pb_column type="4_4″][et_pb_text _builder_version="3.15″]
We had a blast at Media Now at Drake University this summer! 2019 was another successful year to team up with the bulldogs to learn how to strengthen our skills in journalism and make new friends. From July 7-10, high school journalists from across the country got the chance to select a focused journalism course for four days while engaging with industry professionals and trying out new ideas. 
Camper Favorites 
On the Road:

Our campers' favorite part of camp at Drake was the opportunity to explore the Des Moines area. Students across all classes had the chance to visit places like the Des Moines Register, Meredith Corporation and the Iowa Cubs stadium this summer. Getting out and seeing the work first hand sparked a fire in our campers to get back to campus and start creating their own pieces.

Back to the Good Ol' Days:

Many campers reported that the tie-dye activity gave them major nostalgia. Each camper received a plain white shirt with "America Needs Journalists" printed on the front that they could tie-dye as they wish. What was the result? Some fun, colorful creations and an awesome shirt!

Head-to-Head:

On the first night of camp, campers broke the ice by going head-to-head at a game night. There was a variety of things to do including board games, capture the flag, green screen games and selfie stations. Campers used this time to mingle with new faces while having some serious fun.
Trips to Remember 
Star Struck:

Ted Bryant, a Digital Media Coordinator at Major League Soccer's Chicago Fire Soccer Club, surprised his sports journalism class at the stadium of the Iowa Cubs. He invited two soccer players into the class for interview practice and re-watched sporting events to practice their live-tweeting skills.

On Air:

Jennifer Konfrst, a public relations & strategic political communication professor at Drake, took her political communications class down to the campaign office of Beto O'Rourke. The class was part of a press gaggle at a Hickenlooper event and they were able to visit the Iowa Public TV studio. 

Meet and Greet:

Kelsey Kremer, a photojournalist for the Des Moines Register, took her photography class for a drive by the Des Moines Register to talk with staff, visit East Village for an interview photo project and slowed down (their shutter speed!) to paint with light and create stunning long exposure photos. 
Thank You
On behalf of Media Now we want to send a big thank you to our campers, instructors, sponsors and friends at Drake for making another memorable summer. Join us again July 6-9, 2020 for another adventure at Drake!
[/et_pb_text][/et_pb_column][/et_pb_row][et_pb_row _builder_version="3.0.48″ background_size="initial" background_position="top_left" background_repeat="repeat"][et_pb_column type="4_4″][et_pb_video src="https://youtu.be/JCijVkEoveI" _builder_version="3.15″]
[/et_pb_video][et_pb_gallery gallery_ids="7207,7208,7209,7210,7211,7212,7213,7214,7215,7216,7217,7218,7222,7234,7223,7224,7232,7225,7226,7228,7229,7230,7246,7245,7231,7233,7235,7236,7237,7238,7239,7240,7241,7242,7243″ posts_number="40″ show_title_and_caption="off" show_pagination="off" _builder_version="3.15″]
[/et_pb_gallery][/et_pb_column][/et_pb_row][/et_pb_section]