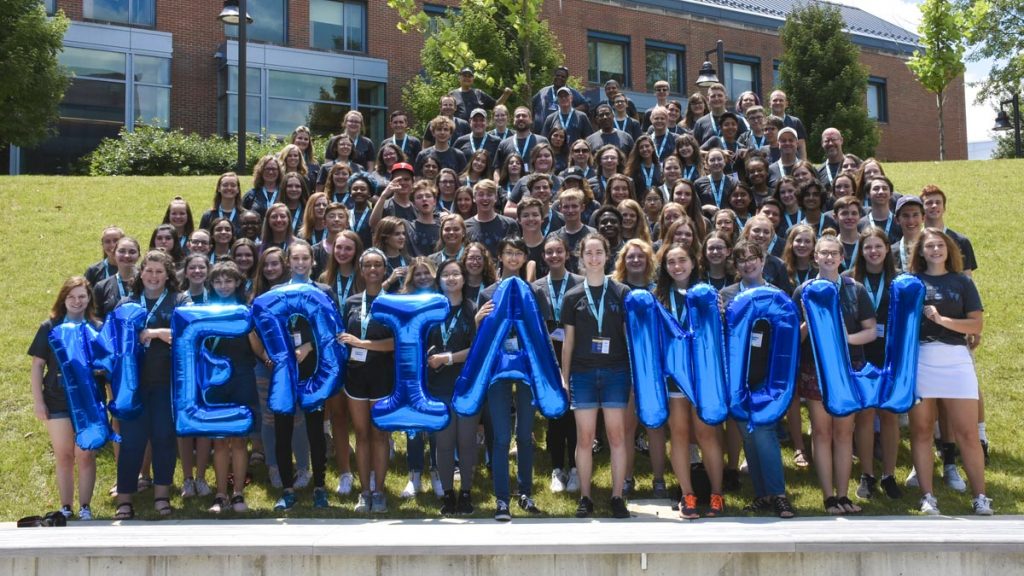 [et_pb_section fb_built="1″ _builder_version="3.0.47″][et_pb_row _builder_version="3.0.48″ background_size="initial" background_position="top_left" background_repeat="repeat"][et_pb_column type="4_4″ _builder_version="3.0.47″ parallax="off" parallax_method="on"][et_pb_text _builder_version="3.15″]
Media Now is our favorite time of summer! Every year, high school journalists have the opportunity to learn from top industry professionals, try out new ideas and, of course, have fun. For the second year in a row, we spent three days exploring Webster University from June 24-26, 2019.. 
Our Special Guests
We know how important it is to connect young media students with professionals in the journalism field. At Media Now at Webster, we brought in three guest speakers to inspire campers and answer their questions. 
Beth O'Malley, an online content coordinator for the St. Louis Post-Dispatch, spoke on her career and what it's like to professionally manage online content. 
Our very own Nancy Smith, who is a journalism adviser at Lafayette High School, brought up her students to speak on the different kinds of group members and how a good leader can create an effective team. 
Finally, visual communications specialist, David Kovaluk, shared his experiences with crafting effective messages and telling stories through photojournalism at St. Louis Public Radio.
All of our guest speakers shared their unique expertise and gave our campers some insight to what life is like working as a journalist.
Camper Favorites
In between sessions, we took a few brain breaks to refuel our creative energy. Our campers shared some of their favorite activities with us:
9 Square: Thanks to our friends and sponsors, we were able to let loose in between sessions with a 9 Square brain break. After lunch, campers and instructors went face-to-face in 9 Square competitions. The only thing hotter than the summer heat was the competition! With the roaring feedback, we decided to play 9 Square for two days instead of the planned one day.
SNO Cones: To give a special thank you to our sponsor, SNO Sites, we set up a SNO(w) cone stand during lunch to beat the heat.
Confetti Booth: Our most pictured activity was the confetti booth. Campers and instructors piled into a clear bubble to throw confetti for the most Instagrammable moment at camp. The windy bubble conditions and colorful confetti created candid smiles and amazing videos.
Not Your Typical Summer Classes
Media Now courses aren't your typical summer classes. Campers were able to learn from working professionals in small classes, getting a personalized learning experience. We're always impressed by our instructors, but here are a few moments that stood out this year:
Out of Your Seat: Instructor Odell Mitchell Jr. who is a freelance photographer, formerly of the St. Louis Post-Dispatch, makes sure his students are learning by keeping them moving. How are you going to get a good photo by sitting in a classroom?
One-On-One: Sarah Nichols, the adviser of Whitney High Student Media, took a session to get personal and connect with high school journalism advisers. She shared resources during this session and talked about all of the great programs/initiatives the Journalism Education Association offers. This one-on-one connection created ample time for questions and conversations.
Monkey See, Monkey Do: Instructor Cristina Fletes, who is a staff photographer/videographer at the St. Louis Post-Dispatch, thinks the best way to learn about video is by making a video! Her full-day session was the perfect way to put her video lessons into action right away. After receiving all the information they needed, her students ditched the classroom and hit campus to test out their new skills.
Thank You
On behalf of Media Now we want to send a big thank you to our campers, instructors, sponsors and friends at Webster for making another memorable summer. Join us again June 22-24, 2020 for yet another week filled with Media Now goodness.
[/et_pb_text][/et_pb_column][/et_pb_row][et_pb_row _builder_version="3.0.48″ background_size="initial" background_position="top_left" background_repeat="repeat"][et_pb_column type="4_4″ _builder_version="3.0.47″ parallax="off" parallax_method="on"][et_pb_video src="https://youtu.be/34B7YCCaTZQ" _builder_version="3.15″][/et_pb_video][et_pb_gallery gallery_ids="7251,7252,7253,7254,7255,7256,7257,7258,7259,7260,7261,7262,7263,7264,7265,7266,7267,7268,7269,7270,7272,7273,7274,7275,7276,7277,7278,7279,7280,7281,7282,7283,7284,7285″ posts_number="40″ show_title_and_caption="off" show_pagination="off" _builder_version="3.15″][/et_pb_gallery][/et_pb_column][/et_pb_row][/et_pb_section]