Drake University • Des Moines, Iowa
WANT THE DETAILS?
YOU GOT 'EM.
---
WHO: High School Journalism Students and Advisers
WHAT: Four-Day Bootcamp to Improve Your Journalism Skills
WHERE: Drake University, Des Moines, IA
WHEN: July 6 – 9, 2020
---
Join us at Drake University for our fifth summer in Des Moines, where students and advisers choose a single-track to immerse themselves in for the four days they are with us. Participate in hands-on projects and showcase them in a campus-wide awards ceremony to cap off our time together. It's an awesome opportunity to deep dive into that area of interest and hone your skills. No matter what level you arrive with, we'll push you, encourage and train you to move to the next. 
CLASSES INCLUDE
Editorial Leadership, Writing Essentials and Advanced, Photography Essentials and Advanced, Video Broadcasting, Design, Yearbook, Political Communication, Sports Journalism, Podcasting and Advising Publications. School Newspapers Online (SNO) will also be there to help staffs with their online news sites.
REGISTRATION COST
The registration fee includes food, lab fees and a sweet t-shirt. Registration fees are below:
$285 Early Bird (through April 1, 2020)
$300 Regular Open Registration (April 2 – June 12, 2020)
$350 Late Fee (June 12 – June 30, 2020)
ADDITIONAL FEES:
$100 Housing (on campus dorms, bring your own bedding)
NEW! TRANSPORTATION ASSISTANCE:
$30 Round Trip Bus ticket from St. Louis (if you can get to St. Louis, we can get you to Des Moines)
Purchase your Bus Ticket ›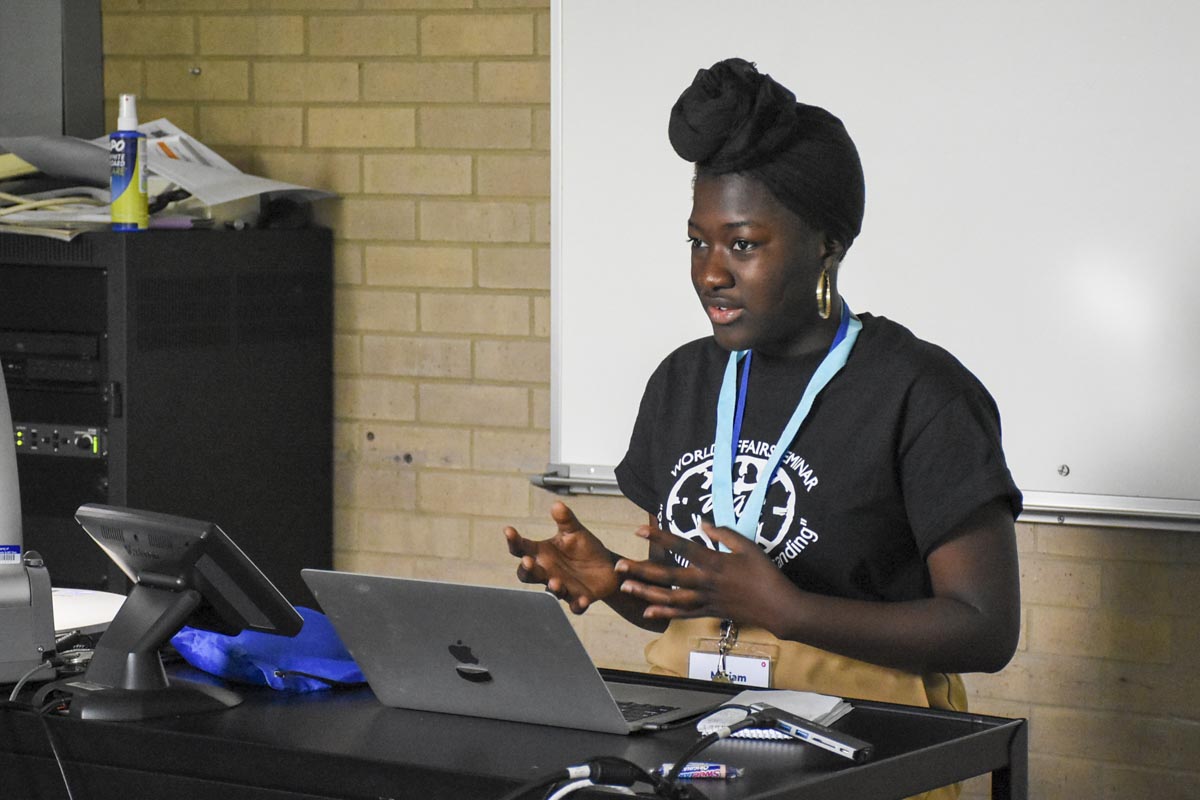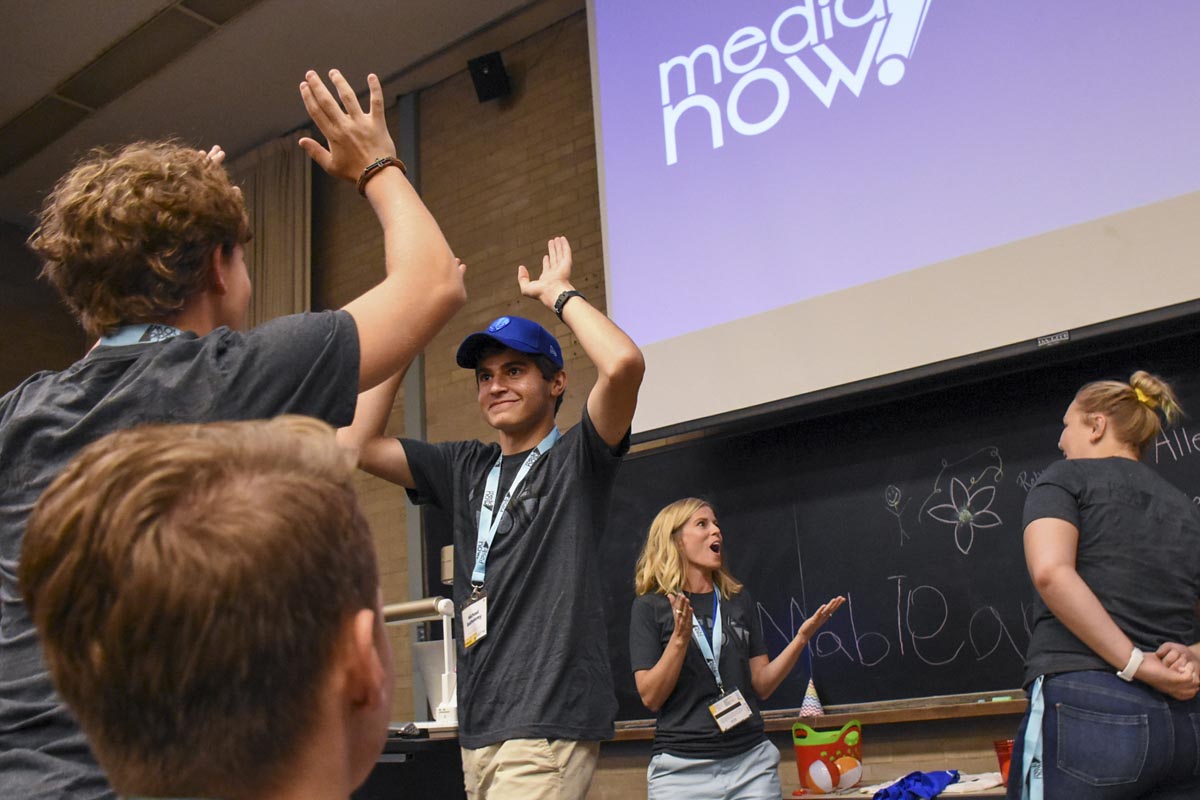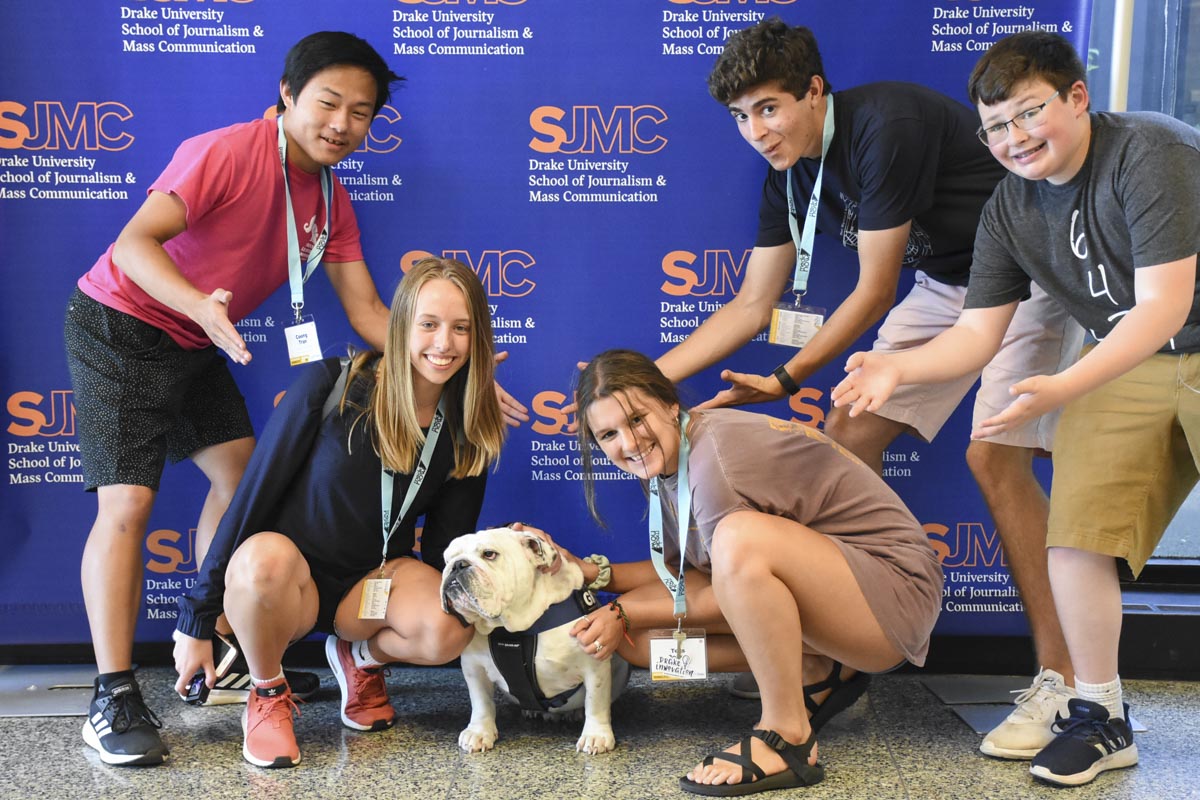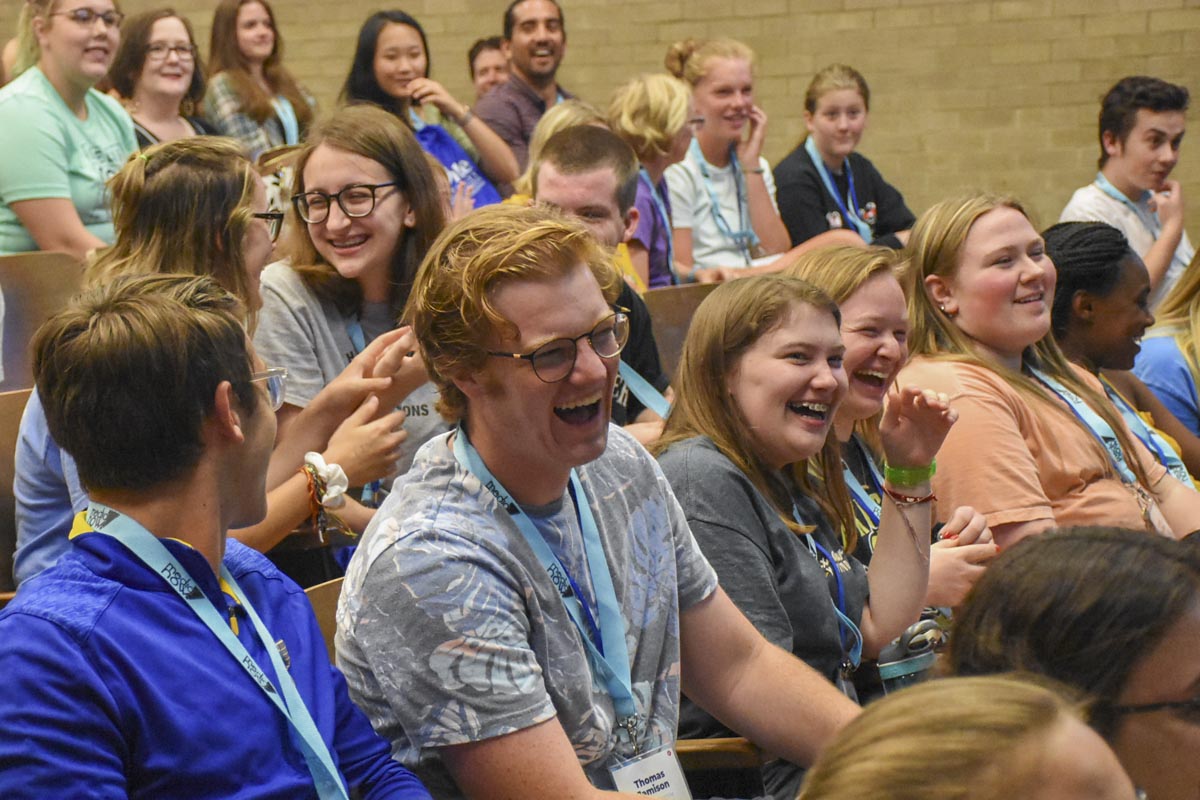 Dorm Details
Campers are given the option to stay with us on-campus for an additional fee. Each room has four beds, desks and closet space. The lounges have WiFi, TV, comfy furniture, gaming activities and a kitchenette. Roommates can be requested at the time of registration by the camper or at the direction of their adviser.
Looking for a pillow fight? ›
Camp Schedule
The Media Now experience is jam-packed with hands-on learning, fun, and experiences. We will create an environment for you to make sweet summer memories, increase your journalism skills and give you the opportunity to meet and learn from some passionate journalists such as yourself.
What time is lunch?
Scholarships
Students have the opportunity to apply for a full-ride scholarship to camp by submitting an essay to the university advisory panel for consideration during our open application dates. If you already paid your registration fee, you are still eligible for the scholarship and will receive a refund if your essay is selected.
Ready to write?
Bus Transportation
We are now offering round trip bus transportation from St. Louis, Missouri, directly to Des Moines, Iowa, for campers attending our summer camp on Drake University's campus July 6-9. Meet us at the pickup point for check-in and pack your things for an easy ride! There are a limited number of seats available on the bus, so make sure to secure your spot. Bus departs St. Louis at 6:00 a.m. on Monday, July 6, and departs Des Moines by 1:00 p.m. The round trip ticket is $30/seat. Purchase your bus ticket now ›
Media Now Drake

Class Listing
Sports Journalism
Instructor: Ted Bryant
Our sports writing course brings together writing, social media and the skills to make you great at both. You'll get guidance on how to conduct interviews, cover live events, write effective briefs, game previews, personal profiles and recaps. Dive into some of the best sports reporting available to uncover what tips and techniques were used that you can apply to your own coverage. You'll also get a chance to practice these new found skills and conduct Q&A sessions with practicing sports reporters.
Editorial Leadership
Instructor: Mitch Eden
The favored Editorial Leadership classes are back and ready to reinvent the way you see your digital newsroom and yourself as a leader in it. Students will learn how to run that growing and changing digital newsroom. Plug into this editor/leader development track and gain skills to manage today's digital newsroom with exposure to new tools that will help infuse the news and information into coverage and workflow. Leave with a knowledge and structure for your own newsroom or section along with at least two practical and applicable digital media elements to implement for the upcoming school year.
Political Communications
Instructor: Jennifer Konfrst
Do you watch "Scandal" and find ways Olivia Pope could do a better job? Are you more intrigued by the politics & communication on "House of Cards" than the murders and mayhem? Do you watch "The West Wing" on Netflix and wish you could be C.J. Cregg? If you can picture a life in politics that gives you the chance to use your communication skills, come spend time with us learning about and doing Strategic Political Communication. We'll spend our time talking about how candidates communicate with voters, what tactics and strategies are used to advocate for policy issues, and learning from political experts about how politics and the media can work together. As the 2020 presidential election approaches, we'll use the Iowa Caucuses as a case study for how grassroots communications works best. We'll also take the time to try our hand at answering questions at a press conference, writing a campaign speech, and comparing strategies of real-world political campaigns.
Writing Advanced
Instructor: Jack Kennedy
You know how to write a basic story. You know to get the facts right and the names spelled correctly. But now it's time to move to the next level. In the Advanced Writing class, award winning adviser Jack Kennedy will share with you what he has learned through the years about story-telling, including the difference between articles and stories, how to turn a mundane story assignment into something special and how to organize a major narrative project. Come prepared to do some writing and have some fun.
Writing Essentials
Instructor: Jonathan Rogers
Looking to get a strong foundation of journalistic writing? This is the class to take. Learn to write like a journalist. In this class you'll go through everything from how to come up with strong story ideas and planning stories to getting great interviews and writing a strong journalistic story. This class will help you get all the tools you need to be a great reporter on your staff next year.
Photography: Advanced
Instructor: Kelsey Kremer
Already have a good understanding of shutter speed, aperture and ISO? This class will help take your photography skills to the next level. Participants will work on a variety of skills that go beyond the basics from using light and creating a photo story to advanced compositional techniques and tips for making great photos. Campers will need a DSLR camera to take this course.
Photography: Essentials
Instructor: Sarah Kirksey
This will be a great class for those looking to understand a digital SLR camera better. Campers will work to get hands-on training with their cameras, learning how to effectively use shutter speed, aperture and ISO in addition to turning well-composed photos into great ones! There will also be some work with phone photography and how to use a cell phone to capture professional looking images. Photographers will also be learning how to effectively share their work on social media. Participants will need to bring a DSLR to this workshop.
Design
Instructor: Carlos Ayulo
Know a little bit about InDesign but you'd like to know more? Maybe you don't know InDesign at all but know you will need to next school year? This class is for you. We plan to get you up to speed on the premiere desktop publishing program Adobe offers and that student newsrooms around the country are using. We will start with the basics and make sure you get comfortable with the tools you will need to know next year. After that, we'll go beyond the basics and show you some of the more advanced tools that will make your job on staff a bit easier and your pages look even better. You may come in feeling like you don't know much about InDesign, but you'll leave the class ready to take on the new school year and anything thrown at you. Heck, you'll probably be ready to teach your own InDesign lessons once you get back to school.
This class won't just be InDesign only though. Here are some additional lessons the instructor will cover during this track:
Principles of design.
How to create a style guide including color palettes and appropriate fonts.
Adobe Photoshop and Illustrator tips.
Critique sessions of published designs.
Work on your publication one-on-one with the instructor.
How to brainstorm ideas.
Video Broadcasting
Instructor: Matt Rasgorshek
In four days you will learn basic techniques of video storytelling, then go into the field to gather a story of your own. Whether you shoot with your school's camera equipment or your own mobile device, you will shoot, write, edit (in Adobe Premiere), export, post and share your work. The pace will be fast, with plenty of challenges along the way, but you will be a better storyteller when the work is done.
Yearbook
Instructor: Brenda Field and Alyssa Moses
Geared toward all types and sizes of yearbook programs, this track will help students take important next steps for successful yearbook production. While moving forward with verbal and visual elements to develop the book's concept, participants also will plan coverage strategies and activities for building a positive, student-centered staff culture. We also will explore ways your staff can share online content and use social media tools effectively to engage readers and expand the yearbook experience. In a hands-on, interactive environment, this track will help you plan a yearbook your students are excited to buy and your staff is excited to produce. For this class, it's most beneficial to sign up in groups of 2 or more from your school with a max of 5 from any one school. Seating is limited to the first 10 schools that register. 
*Walsworth Yearbooks is our 2020 sponsor who will be on site working with students in breakout sessions as well. You do NOT have to be a Walsworth client to participate.
Podcasting
Instructor: Chris Snider
Podcasting is one of the fastest-growing ways to reach an audience in 2020. This hands-on class taught by Drake University Associate Professor Chris Snider will introduce you to the tools and skills needed to record, edit and launch your podcast.
Here's what you will learn:
• Get advice and best practices for creating a podcast.
• Learn how to record quality audio on a variety of devices.
• Lean to edit and clean-up audio in Adobe Audition.
• Learn where to find free music options and sound effects for your podcast.
• Plan, record and edit a sample podcast using Drake University's audio booths.
• Create a plan for launching podcast(s) at your school.
Advising Publications
Instructor: Aaron Manfull
We are looking forward to offering this class at Media Now. The class will be led by Aaron Manfull of Francis Howell North in St. Charles, MO and give advisers an overview of advising publications in 2020. We will discuss everything from grading and staff organization to advertising and content generation. While Manfull will be the lead instructor for this course, those advisers electing to take this workshop will have the opportunity to interact with many of the other camp instructors as they will be visiting the class to speak on topics ranging from graphic design to videography. Our goal for this class is to send advisers away with a grasp on effectively managing and converging their digital and print newsrooms. The class will be a balanced blend of instruction and group discussion and will be targeted to broadcast, web, newspaper and yearbook advisers. This course is meant to be more of a survey course to give advisers a taste of each of the areas they'll likely be working with in their converged newsroom. If instructors would like a little more focused direction in one specific area (such as videography), they are encouraged to enroll in one of the other classes for the duration of their time at Media Now.
Web - SNO Site
Instructor: Ivy Kaplan
This web publishing class for SNO customers will be an opportunity to work directly with members of the SNO team to explore the design options that exist within the SNO FLEX theme and to learn about all the possibilities in SNO's four-story page templates. We'll discuss strategies and tools for managing your online workflow, and we'll take an in-depth look at online publishing standards and discuss how your coverage and content can be shaped by the exciting world of online publishing. This class is for SNO customers. If you are not a current SNO customer, this is a great time to sign on and join them at camp to get the training you need for a great site from day one. You can find more information out about SNO and the services they provide here.
Register For Media Now 2020!